Top managers react to Cameron's EU referendum promise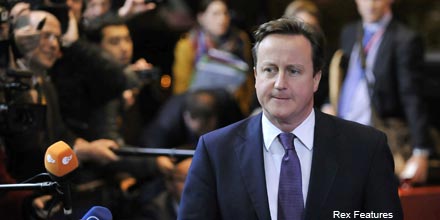 Calling for an 'open, flexible and competitive Europe', David Cameron defended his decision to put Britain's membership in the EU to a referendum at the Davos summit today.
The German press, who have previously referred to Cameron as the 'diva of Europe', have responded relatively sympathetically to the call. French newspaper Le Monde, went as far to say that Cameron is the most Eurosceptic leader the UK has seen since 1973.
Speaking to Citywire Global immediately after the comments, Bluebay's Mark Dowding, manager of the BlueBay Inv Grade Euro Aggregate Bd R EUR, said:

'I believe Europe will push back on Cameron - he could be forced to a Eurosceptic corner if the rest of Europe refuses to negotiate,' said Dowding, who is co-head of Bluebay's investment grade bond team alongside Raphael Robelin.
'UK (fixed income) has been a safe haven. Political uncertainty can dent this and this could be negative for the pound and for gilts. The UK has been in the spotlight in recent years but finds itself "back in play.'''
UK fixed income and equity markets showed no signs of reacting negatively to the announcement.
One reason, for a lack in market move is considered to be the internationally rather than domestic-facing nature of FTSE companies.
'The announcements rather have more implications for investment in Britain rather than the companies that we hold in our portfolio,' said Citywire AAA-rated Chris Bullock, manager of the Henderson HF Euro Corporate Bond A2 at Henderson GI.
'UK companies in pharmas and telcos are so diversified that we don't think this will have an effect on individual companies.'
The referendum could take up to five years to go through and would only be secured by a Conservative party win at the next national election.
'Markets don't like uncertainty and that's what this is although a possible referendum has been expected. I do think it's fair to say that politics has come first.'
Conversely, Citywire AAA-rated Mike Riddell, manager of the M&G Emerging Markets Bond fund said:
'I think any referendum is way too far in the future to worry markets yet. There are many many more important things that will be driving fixed income markets in the meantime.'