Top Asia manager bullish on Chinese property outlook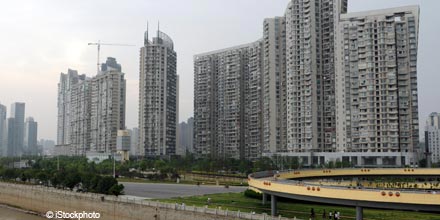 It is time to buy into China's property market, Kenny Tjan, CIO of Asia-Pacific portfolios at the Australian boutique MIR said after having sold out of Chinese equities in the past year.
In an interview with Citywire Global, the Singapore-based manager said property companies are trading on attractive discounts of 40-60%.
'Property developers at the moment are so bearish but we are currently really overweight on property in China,' Tjan said. 'We would buy even more over the summer as we do not want to be led by the macro fears.'
Despite many investors apprehension over the country's banking and property sectors, Tjan said he had added a significant overweight to these areas as he sees no signs of the government introducing policies to counter any potential loosening.
Data from the China Real Estate Index System (CREIS), a private sector survey conducted in China's 100 largest cities, yesterday announced house prices had risen in the past month snapping a nine-month decline.
Government policies such as home ownership restrictions have helped keep a lid on prices, added Tjan.
'We still have a misconception of a property bubble in China when actually within China it is seen as a investment. People when they have money love to speculate and for the Chinese, property is their most-loved commodity.'
Over the last 12 months he has held a significant underweight towards Chinese equities on unattractive valuations as he still sees growth to reach 7.5%-8% in 2012.
Having recently upped his exposure, he currently holds 12% in China whilst his benchmark weighting is at 17%.
One of the reasons explaining his underweight is Tjan still doesn't hold any consumer staples which he says investors have 'flocked to safety even though everyone knows that they will be slowing down too.'
Chinese banks
On banks, Tjan sees opportunity in selective stocks which he thinks will have the political support to be bailed out in the case of a crisis.

'China's banks are already state-owned and China's debt is mostly internally held. There would definitely be political support if it came to a crisis.'

Banks will have to contend with lower operating margins says Tjan, however the biggest driver of margin squeezes –liberalising the banking system – is still a long way off, he said.

'I don't think the government is in a hurry to open capital markets. When China became to look more like a safe haven, you saw inflation spinning out of control into the financial system.'

'There is a path to be set but not through the election in China per se which is going to be hand-picked by the existing government,' he said, referring to the changes to the members of China's most important executive power, the Politburo, to be made later this year.