SEB AM loses two of its fund selectors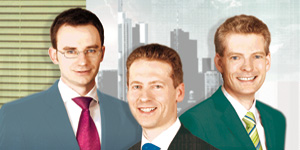 Fund selectors Jens Kummer and Damian Krzizok have confirmed they have left SEB Asset Management.
The pair were part of a three-person strong multi-management team along with Andreas Bichler. Krzizok is leaving after over a decade at the Frankfurt-based asset managers.
In a departure email sent yesterday seen by Citywire Global, both managers confirmed their departure but did not mention where they would be going.
Having previously been head of the multi-management operation at SEB Invest, Kummer returned five years ago to the firm after a stint at Cominvest.
Andreas Bichler was recruited at the same time from BHF Trust to form the firm's multi-asset fund selection team with Krzizok which currently runs around ten funds.
At the time of writing, none of the managers were available for comment and it remains unclear what Krizok and Kummer's departure means for Bichler and his role within SEB AM.