Schroders' Cordell: don't get complacent on European growth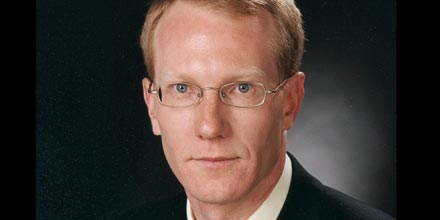 Cazenove Pan Europe X EUR fund  manager Steve Cordell, has increased his exposure to financials as he expects them to benefit from a pick up in eurozone growth.
Over the next few months, the AA-rated fund manager tips cyclical commodities and industrials to be among the best performers but he has warned that investors should not get complacent on the extent of overall growth.
Cordell said the banks in his portfolio were all capitalised to BaseI III standards, whereas a year ago some banks had not been.
The latter group offered provided an attractive entry point and Cordell  took advantage by adding Societe General to the fund, while UBS was the ninth largest holding in the fund at the end of July.
'Valuations are still pretty cheap, but the profitability of banks in the eurozone is at the bottom. I assume that the banking sector in Europe, as we have seen in the US, can stabilize in terms of profitibility. The bottom has been reached and the support of the ECB is in evidence. We expect lending to pick in 2014 but we haven´t seen that yet,'  Cordell said.
Cordell said he was now keeping a closer eye on  bond prices and ratings, as they had become important tool of analysis.
'Now, we pay attention  to what credit markets are saying about financial stocks to see if they see any improvements. Before the crisis, we had not paid attention to ratings."
Pharma sales
Cordell has exited positions in pharmaceutical companies Sanofi, Roche and Novartis due to what he sees as a lack of future growth prospects after they achieved unusually strong performance in the first quarter and hit Cordell's price target.
He is also underweight defensive sectors such as telecoms, food and tobacco companies.
Cordell has been adding to industrials and cyclical commodities, while he is less focused on the cyclical consumer sector which he thinks will be less attractive against a backdrop of rising interest rates.
Cordell has been adding to Vedanta Resources, a UK-listed mining company that produces copper, aluminum, zinc, lead, silver, and has iron ore deposits in India, Zambia, Australia, South Africa, Sri Lanka, and Ireland.
He has recently added to oil major Total, too.
Since end of June, the French company has jumped from the fourth to the second largest fund holding, making up 2.5% of the portfolio at the end of July. The company was enjoying a fall in capex and seeing cash flow turn positive, Cordell said.
Periphery
Cordell is increasing exposure to Southern Europe and has added Spanish bank Bankinter to take his underweight position in Spain to an overweight position this year.
The Spanish job market has gained flexibility as unemployment rates have peaked, according to Cordell, and he has also been adding to Italy, where he is positive on changes to Italy's taxation policies.
Cordell remains positive on European companies more generally in the months ahead and is confident that European assets should benefit from the wide sell-off in emerging markets over recent weeks.
'Liquidity is likely to shift from the emerging markets to Europe as growth forecasts for the euro zone and UK have improved,' said Cordell.
He therefore prefers companies that are exposed to the eurozone and that are no longer so exposed to emerging markets which is reflected in his higher exposure to European banks.
'The biggest challenge in the coming months is to manage expectations of European growth for investors, who were very sceptical on seeing growth coming. But when it comes, they could get carried away and politicians might get too relaxed and reforms not carried through. For a portfolio manager, that is the time to take risk out and to get risk-averse again,' Cordell said.
Over the last three years to the end of July, the Cazenove Pan Europe X EUR fund has returned 44.77%. Its benchmark, the FTSE World Europe TR EUR, rose 29.05% at the same time.