Legg Mason's Shiozumi shines in new Japan
By Matthew Goodburn on 28 June 2013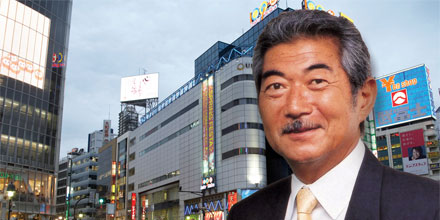 Fund managers can often fall into distinct categories. There are those who chase momentum and adapt their investment process to the prevailing economic climate and others who stick to their guns no matter what the market throws at them.
Legg Mason Japan Equity fund manager Hideo Shiozumi falls firmly into the latter group.
The Japanese equity veteran, AAA-rated by Citywire, has 40 years' experience in the markets and runs one of the most disciplined investment processes anywhere, with a laser-like focus on the country's most growth-oriented small-cap stocks.
He began his career in the 1970s working for Robert Fleming before spending some time working with George Soros on the Quantum fund building up a wealth of knowledge on Japanese firms.
Having founded his own Tokyo-based boutique, Shiozumi Asset Management, he has run the Japan Equity fund for Legg Mason since 1996.
His approach has reaped enormous rewards in bull market phases, but the other side of the story is that the fund suffers worse drawdowns than many of its peers when markets tumble, giving it one of the most volatile profiles of any that we track.
Right now, as would be expected, Shiozumi is enjoying a rocket-fuelled ride on the back of Japan's Abe-inspired revival. Revelling in the abundant liquidity and weakening yen that is seeing smaller companies bounce even harder than many of their large-cap peers, the fund has almost tripled the benchmark Topix index this year, up 66.6% in the year to 21 May against 28.8% from the index.
Broadening out the numbers, over five years the fund has strongly outperformed, posting 141.1% compared with the Topix's 27% in euro terms.
Over 10 years a more jagged picture emerges, with the fund exaggerating the volatility of the Topix both on the up and down side, posting 101.6% compared with the Topix's 92.4%. Shiozumi's manager ratio of 0.82% puts him in the class of a solid, competent manager, if not the excellent category.
Please visit our full site to view this interactive chart
Please visit our full site to view this interactive chart
And to at least one of his most high profile peers, Stephen Harker of the GLG Japan CoreAlpha fund, Shiozumi is the most respected adversary in the Japanese equity sector.
Harker told Citywire that his fund was at the opposite end of the spectrum to Shiozumi's, namely large-cap value rather than small-cap growth, but both share a disciplined focus on their area of the market.
In Shiozumi's case it involves screening for small caps that he believes can generate annual returns in excess of 20% over a four-year cycle, but which are attractively valued.
'We are a growth-oriented portfolio but we look for companies with real growth, where market expectations may be slow to catch up with reality,' he says.
Tapping into transition
Shiozumi's investment process is also built around a philosophy he calls 'New Japan'. While the concept has become a trendy one since the onset of Prime Minister Abe's fiscal and monetary policies to kick-start the economy last November, Shiozumi has been talking about it for 20 years.
The idea revolves around a belief that Japan is changing slowly from a rigidly structured society towards a more entrepreneurial economy. With the prime minister and Bank of Japan targeting mild inflation and a weaker currency after years of deflation, combined with strides toward structural changes to archaic labour laws and more open trade, Shiozumi thinks the era of New Japan is now much closer to reality.
He is looking to exploit this transition through companies selling a broad range of products via the internet, whether it is fashion or health care businesses or those selling to Japan's elderly population.
The portfolio is dominated by stocks in three themes that link into this forward-looking shift, with health care and internet related stocks making up 36% and 38% respectively, while consumer spending stocks account for 15%.
Shiozumi is convinced that Japan is becoming an internet-based economy. He thinks the government is also targeting the medical industry as its top growth sector. Moreover, he is convinced that the profound monetary and fiscal changes that have sparked such a huge stock market rally over the past six months can be sustained for a while longer yet, albeit not at the same pace overall, and with further volatility.
'We think the direction of the rally can be maintained for the next 18 months, but not at the same magnitude. We should expect pull-backs and corrections, but the overall market should move upwards as corporate Japan makes more profits and consumers spend and the domestic economy reflates.'
Shiozumi also believes that the so called 'third arrow of Abenomics', namely the structural and economic reforms needed to make the labour market more competitive, could have real impact.
The crucial date is the Upper House elections in July, because Shiozumi says that should Abe win, he will have a full mandate for growth and to push through his economic reforms.
'These will buoy the economy and pull it out of years of stagnation,' he says.
Please visit our full site to view this interactive chart
Big bets
Shiozumi is a high conviction investor and his top 10 stocks make up almost half of the fund's holdings. His portfolio turnover is usually low although occasionally he will be more tactical, holding stocks on a 12-month view.
Five of the top 10 have been in the fund for more than three years and those that have been added recently have come from the three sectors Shiozumi targets.
Shiozumi is still confident that smaller companies remain a better option for overall returns than the better covered large-cap market which tends to be dominated by exporters. While many of the latter have undoubtedly benefited from the yen's weakening, Shiozumi believes the transition to New Japan is all about a domestic renaissance.
'We still see great opportunities in the small-cap space because many of these companies are plugged into the domestic economy – more than many of the large-cap multinationals.
'Many of the small caps have had depressed valuations for many years so the recent strong rally is only a re-adjustment to more reasonable, but still cheap, valuations. When profits grow even faster, their valuations will be reassessed once more.'
Despite his normally low turnover, he has added 18 stocks in 2013, many of which had been owned previously. Most are only around 1% holdings which he will be adding to, but the fund currently at 48 stocks, is unlikely to ever move above 50 holdings in total.
Not only does Shiozumi screen out companies that cannot generate greater than 20x earnings, but he seeks out attractively priced ones that are trading on price to growth ratios of less than 1.5x when he buys.
Overall the entire portfolio is trading on a price to growth ratio of 0.6x. Prime examples of these sharp and ongoing re-ratings include M&A company Nihon M&A Centre, which Shiozumi has owned for five years but which he says has tripled its share price over the past 12 months.
Another example is online gaming group Gungho Holdings. The group was added in March, and went straight into the €300 million fund's top 10. In April alone the company's share price rose by 133% after one of its top smartphone games was expanded to be included on iPhones.
The largest holding is discount retailer Don Quijote which has posted 87% gains over the last 12 months. Shiozumi first bought the company when he started to run the fund for Legg Mason in 1996.
Tapping into his health care themes, Ship Healthcare Holdings has posted even stronger numbers, up 99% over the past year as it has rolled out its consultancy provision to hospitals and clinics around the country, as well as having a strong and growing overseas operation in countries such as Myanmar and Indonesia.
Shiozumi expects the company to continue to grow by 50% over the next year. He reels off one more, a top 10 holding Monotoro, a provider of factory supplies through its internet network. Shiozumi says the group has been broadening its client base from just small and mid-sized companies through to large caps, as well as expanding its operations overseas. The stock has been in the portfolio for two years and has also tripled its share price over one year.
Then & now: top holdings
2008
2013
So-Net M3 Inc
8.67%
Don Quijote
5.74%
Nihon M&A Centre
7.29%
Nihon M&A Centre
5.14%
Benefit One
6.80%
Sosei Group Corp
5.14%
Don Quijote
5.94%
Ship Healthcare
4.36%
Produce
5.14%
Gungho Online Entertainment
4.08%
Dena
4.71%
Monotaro
4.05%
MCJ
4.66%
3D Matrix
3.82%
GCA Savvian Group
4.57%
Kakaku.com
3.75%
Village Vanguard
4.45%
Tsukui Corp
3.17%
Kakau
4.11%
M3 Inc
3.06%
Long-term conviction pays off
Despite the long-term volatility in the fund and Japanese small caps over the past few years Shiozumi is quick to point out that his most recent outperformance started well before the Abe-inspired rally last November.
The fund was 15% ahead of the Topix index in the first 10 months of 2012, before the latest rally began.
'We performed well by "sticking to our knitting" and investing in companies true to the New Japan philosophy where Japan moves from a manufacturing and regulated economy to one driven by services and less regulation which allows greater corporate flexibility.'
The sharply depreciating yen has had a limited impact on the fund because of its focus on domestically oriented firms. 'Our top 10 stocks have stayed remarkably consistent over the last three years and their greater appreciation than the market over the last six months has added strong value to our high conviction fund,' he says.
Shiozumi believes the yen will ultimately stabilise at between 95 and 105 to the US dollar, and that when this happens, there will be even more incentive for investors to tap into the domestically focused firms that can benefit from the New Japan concept.
'The collapse of companies like Sharp, Pioneer and even Sony, show that the economy has been changing,' he says. He is confident that the New Japan philosophy will accelerate over the next two to three years, and that the structural bull market for equities can last for another 18 months despite bouts of volatility.
For now though, Shiozumi's eyes are on July, and Japan's Upper House elections. If, as he expects, Abe wins the Upper House, his purple patch may be secured for a while longer, as Japan's domestic recovery puts down more solid roots.
To sum up, Shiozumi's disciplined approach to investing in only the fastest growing Japanese small caps has won many admirers.
However, this strategy has left him a hostage to sentiment when investors have deserted Japan after years of false dawns.
But in the good times, his sharp focus on domestically oriented companies that he believes can benefit from Japan's transition to a modern internet focused economy, has left all others in his wake. The policies of Abenomics have provided a favourable backdrop for his vision for a New Japan. If Prime Minister Abe gains full control of the government's Upper House in July the recovery's long-term prospects will look even stronger.
However, investors should always be mindful of this asset class's volatility.
This article originally appeared in the June 2013 edition of Citywire Global magazine