Jupiter's de Fonclare swaps quality growth for banks on eurozone hopes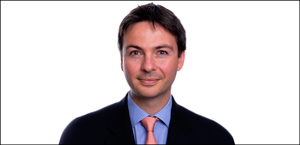 Jupiter JGF European Opportunities  fund manager Cedric de Fonclare has diversified his banking exposure and is swapping expensive quality growth names for selective quality cyclicals as the eurozone continues to ease towards recovery.
De Fonclare says the prevailing trend of investors backing a strong Germany and avoiding a weaker rest of Europe has now broken down and a number of quality growth names which had been run hard.
With economic numbers slowly improving in Southern Europe, Citywire A-rated de Fonclare says investors are focusing more on a stock by stock basis and has used the recent shift in emphasis to add selectively to peripheral Europe.
He told Citywire Global: 'We are not yet big bulls on Southern Europe but are starting to add some more international names there. A lot of businesses will continue to fail [in the region] so we have to be cautious of the value traps such as the telecom sector.
Diversifying banks exposure
In financials, de Fonclare has been keen to dilute his quality bias, with the bulk of his banks exposure is through Scandinavian banks. He added UBS in 2012  but more recently has bought UK-listed insurer Prudential, as well as BNP Paribas, Barclays and, most recently, a 1% fund stake in Italian bank Unicredit.
Overall, de Fonclare has reduced his underweight to banks, but, despite recent additions, it remains an underweight at 11% of the fund compared to the benchmark's 13%.
'I wanted to dilute the quality bias because banks remain so exposed to politics and regulation. Diversifying is a good way to hedge against that potential volatility.'
'Unicredit can capture the stabilisation in Eastern Europe. It is at a significant discount to book value at 0.4 to 0.5 times book and it is quite well capitalised.'
While de Fonclare expects the Italian bank to continue to have a volatile ride, he points to Bank of Ireland as an example of why he believes it is worth holding in the portfolio.
'Bank of Ireland is now trading at 1.5 times book value because the country has turned the corner and it should never go back to the same low valuation. The fact that Unicredit is on such a low valuation gives us a margin of safety.'
Reducing quality growth
De Fonclare usually holds around 20% of his portfolio in quality growth stocks but has been reducing selective positions after strong runs and adding to a handful of quality cyclical names.
'We are aware of the high premium many quality growth stocks are at compared to the market and have been avoiding the big groups such as Nestle. We have been diluting that exposure to bring down the overall valuation of the portfolio in give ourselves a much more blended portfolio.
Crop giant Syngenta has been reduced, while German IT group Sage has been sold completely. Testing group Intertek and satellite firm SES Global have also been reduced, while de Fonclare has taken profits on ingredients and fragrance specialist Giveaudan.
'We have tried to take money out of quality names trading at a premium to the sector and spread it out over the past three to four months, recycling into cheaper names. It has not been bad for the portfolio and this year we have posted 4% outperformance net of fees
As well as recycling the proceeds into selective banks, De Fonclare has bought  tyre and auto safety testing group Continental which has significant exposure to the Russian, North American and Asian markets and has become a world leader in breaking systems.
The Jupiter JGF European Opportunities fund returned 41.23% over the three years to the end of August 2013. This compares to a 30.1% rise by its Citywire benchmark, the FTSE World Europe TR EUR, over the same period.