Jupiter's de Fonclare steps down as lead manager of income fund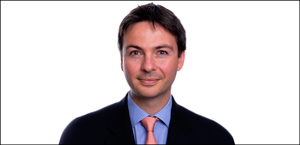 Jupiter has appointed Gregory Herbert lead manager of the Jupiter European Income fund with current Euro Stars A-rated manager Cédric de Fonclare (pictured) stepping back to become its deputy manager.
Herbert joined Jupiter in 2005 and moved to the firm's European equities team in 2007, assisting de Fonclare on the Jupiter European Special Situations Fund, the Jupiter European Income Fund and the Jupiter JGF European Opportunities SICAV. He will take on his new role on April 2.
The promotion to lead manager of the €41 million fund is in recognition of Herbert's promising start as a fund manager at the group, the firm said.
Herbert took on the Jupiter Global Managed fund in January 2012 and had posted 19.3% compared to the 13.1% return of FTSE World Europe ex UK Index in his first year in charge.
De Fonclare will continue to support Herbert on the fund which he took over from Malcolm Millar in July 2011 and will continue to oversee the firm's European equity fund range with the three funds holding combined assets of €1.3 billion.
Jupiter's chief investment officer John Chatfeild -Roberts said: 'Cédric's performance record has enabled him to establish a strong following among fund buyers and it is pleasing that Gregory has developed considerable skill in his own right as an analyst and fund manager since joining the team.'