JPM duo unveil three 'hidden gems' from Europe's periphery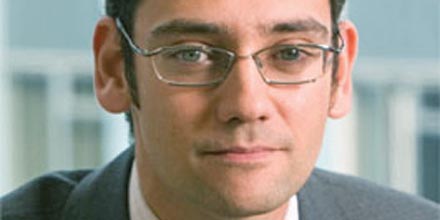 JPM Europe Equity Plus managers Michael Barakos and Nicholas Horne have been uncovering selective 'hidden gems' across peripheral Europe they believe to be overlooked by the wider market.
The duo added Spain's Let's Gowex in May, while Italian tea and coffee machinery maker IMA was added in September. The stocks are up 40% and 42%, respectively, since they were bought.
Citywire + rated Barakos (pictured) said: 'Let's Gowex's strategy is to roll out free Wi-Fi secure revenue streams from designing and building the networks, operating the networks as well as marketing agreements and advertising.'
'This really is a play on the theme that we will all demand free Wi-Fi wherever we are as standard in the future. Their Wi-Fi cities are present around the globe.'
'The roll-out of free Wi-Fi cities is running ahead of analysts' expectations and this has led to consensus earnings estimates being upgraded by around 40% since May.'
IMA was bought on 3 September at €18.6 a share, and is now trading at €26.42.
'The company manufactures machinery for packaging tea bags and coffee pods, machinery for pharma packaging and processing and food packaging equipment.'
'It has good exposure to the European macro recovery [but] the company also benefits greatly from ongoing revenues generated through spare parts and after sales, which also protect against a further downturn.'
'If clients move toward repairing/maintaining machinery rather than purchasing new equipment, revenues still flow through to IMA.'
Driving returns
High performance car brakes manufacturer Brembo was also added recently after it too was sold off due to its listing in Italy.
'Brembo makes brakes for Porsche and is the market leader in high performance brakes. It has been sold off due to being Italian-listed but has very little to do with the periphery's problems. It has been dealing well with competitors for decades.'
The pair also believe the case for buying European equities remains intact despite strong gains over the past 18 months.
Horne told Citywire Global: 'The relative valuation argument is not as strong as it was because European equities are back to their long term average but the macro backdrop continues to improve.'
A key area of outperformance for the 130/30 style Ucits III fund over the past 18 months has been a long position on a basket of Scandinavian banks versus a short on peripheral European banks.
With many peripheral banks having enjoyed strong share price rallies over the past few months, Citywire + rated Barakos said that the case for the strategy was more pronounced than ever.
Expensive Spanish banks
'The valuations of peripheral banks are not as extreme as they were and some look a bit expensive, especially the Spanish banks.'
By contrast, Barakos says Scandinavian banks continue to be one of 'very few examples of over-capitalised banks across Europe'.
The €800 million fund has long positions in Norway's DnB Nor and the four largest Swedish banks, while holding zero exposure to Spain's Santander or BBVA.
Barakos admits that he is 'still nervous' on the asset quality of a number of peripheral banks ahead of the ECB's asset quality review (AQR) next year.
'We think the AQR will reveal some poor asset quality in peripheral banks and we will not look to invest in any of them until dilution starts to come through but that is not looking likely for at least the next nine months.'
Elsewhere, the fund continues to be hold a 1% underweight index position in Swiss consumer staple giant Nestlé.
'It was an obvious area to avoid at the start of the year as it looked very expensive. Today we are still at our maximum underweight position but it is becoming less unattractive as it has underperformed recently on a relative and absolute basis.'
The fund also remains underweight its consumer staples peers such as Danone, Unilever and InBev, as well as luxury goods names such as Richemont and LVMH which had all suffered on fears of a slowdown in emerging market growth.
'Luxury goods went through the roof six months ago but they are slowly coming back to more attractive valuations.'
Over the three years to the end of October, the fund has returned 62.9% versus the average manager in Alternative Ucits - Long/Short Equity sector, who returned 13.9%.