How can sovereign wealth funds adjust to the 'new normal'?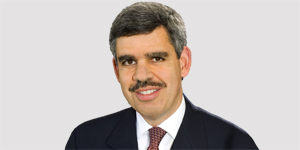 Mohamed El-Erian, CIO and CEO of bond giant Pimco, has outlined how he sees the future for sovereign wealth funds in an article published on the website of the IMF.
He thinks the 'new normal' conditions in global markets will require important changes in the way sovereign wealth funds (SWFs) operate.
'They call for some retooling of investment strategies and risk management, as well as business and other operational strategies. They will require challenging adaptations in the optimal mix of human, technological, and analytical resources and better communication with economic and political stakeholders (including political sponsors and society at large,' El-Erian said.
He thinks SWFs must be more reponsive and forward-looking in the future and their governance structures, the robustness of their investment processes and the effectiveness of their communication activities will be tested.
'At the most fundamental level, institutions will need clear overall guidance from their governing bodies, so managers of sovereign wealth funds can allocate their assets in a forward-looking long-term manner anchored by solid cash, liquidity, counterparty, and collateral management.
'Moreover, holistic risk-management frameworks must supplement conventional asset-class diversification with targeted and cost-effective management of tail risks—events that are rare, but that carry catastrophic consequences. The governing bodies of sovereign wealth funds will have to rely on managers and staff armed with forward-looking analytics and technology.'
He warns that SWFs may be taken 'out of their comfort zone' by implementing the changes required and it will involve risks. 'Yet, given the scale of ongoing and prospective changes in the global economy, the alternative of backward-looking business as usual would be even riskier,' he adds.
His full report into the future for SWFs can be found here.