Hot money heads for German real estate funds despite recent upsets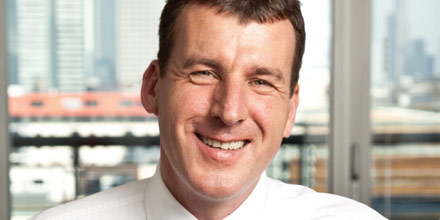 At first glance, trends in German real estate don't add up.
As German property funds suffer a series of liquidations, house prices continue to drive relentlessly upwards causing mutterings of a property bubble in Europe's core economy.
Yet the curse of German real estate funds refers to retrospective challenges, according to Ulrich Steinmetz, managing director at RREEF, Deutsche Bank's dedicated property group, and manager of its Grundbesitz Europa and Grundbesitz Global funds.
'Private interest and the question of rising property prices in Germany are things that have started very much in the last 12 to 24 months,' says Steinmetz.
'I don't think there is a disconnect between this and the liquidation of property funds, it is just a question of timing.'
Financial turmoil over the past five years has compelled retail and institutional clients to drop real estate funds and search for higher yielding assets.
The latest casualty is the HANSAimmobilia fund, a property fund liquidated by the Hamburg-based Hansainvest in August and that follows the fate of the liquidated CS Euroreal and the SEB Immoinvest funds.
'Clients have been too big and investors too concentrated in some of the big property funds,' says Steinmetz. 'It's a question of how it has been handled.'
Since 2008, the Grundbesitz Europa fund has held an IC share class for investors with more than €1 million. Investors are as such bound to a longer-term investment and need to give notification if they want to redeem.
Return of 'hot money'
Yet the tide of institutional interest in property funds is coming back, says Steinmetz whose clients are typically German-based institutions and pension funds.
'In Germany at least, institutional investors had a property allocation from 10% to 15% before 2008. They now don't have any allocation as after 2008 they started to look for assets with more returns.'
'Yet if you look at allocation models of institutional firms, such as pension funds, they have topped up their exposure to real estate over the last couple of months. Institutional investors are currently looking to increase allocation again to 20% or more.'
As old interest rekindles there is new demand for more reliable returns at the expense of higher yielding assets, says Steinmetz.
These core investments include retail, offices and logistics.
'It's a case of being invested in stable income-producing property rather than opportunistic investment where you have to do refurbishment or leasing.'
No place like home
The €3.6 billion Grundbesitz Europa fund currently holds over one third in cash that will be reinvested in the domestic market.
'You will hear people say a bubble is coming in the German residential market but I think you have to look into the micro markets and elsewhere. I think the German real estate market is still core, as are Paris and London.'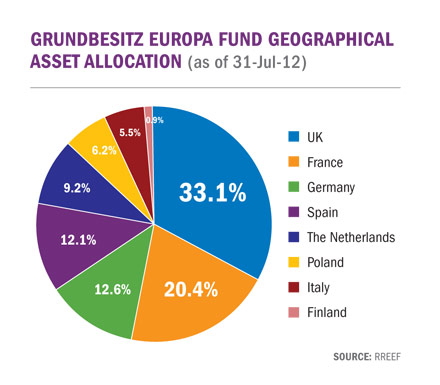 Steinmetz says he is looking to add in logistics and offices in Germany rather than retail as shopping centres face fierce competition following a spate of centres being built over the last few years.
A decentralised market
Germany provides a handful of cities including Munich, Hamburg, Frankfurt and Dusseldorf for property investing.
Whilst a decentralisation of prime property hubs curbs speculation, it also means there is less liquidity than in London and Paris which slows access to investment opportunities.
The French and UK property markets still make up a fifth and a third of the Grundbesitz Europa fund respectively whilst the German market claims only 13%.
Paris and London will continue to be prime markets for the fund due to their high liquidity, says Steinmetz.
'We purchased the Finsbury Circus property in London in March and then also an office building which has to be refurbished in Paris in the Boerse district.'
In May, the fund purchased its first building in the Nordics, which Steinmetz says was a goal from the beginning of the year as the area is seen as a safe haven for real estate.
The company's second goal set is to reinvest in the home market.
This interview was originally published in the September edition of the Citywire Global magazine.