Graham French: last summer was the worst of my career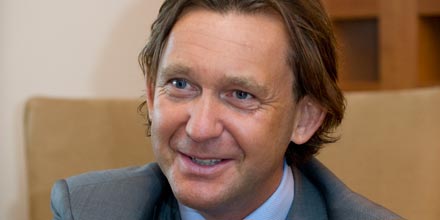 M&G Global Basics A Euro AccM&G Global Basics manager Graham French admits that last summer was 'the worst period' of his investment career as the fund suffered from its overweight to resources stocks and the issues surrounding security at the Olympics with core holding G4S.
French told investors that there were three resource stocks 'perhaps we shouldn't have been in' last year, including South African platinum miner Lonmin which has now been completely sold.
He said: 'Last summer was one of the worst I can recollect [as an investor]. One of our largest holdings G4S not participating in the Olympics ceremony hurt performance and it was also the start of commodities not performing.'
Olympics debacle
Speaking as the company came under intense public scrutiny in August last year, French said he was sticking to his guns on the stock as he regarded G4S as a well-diversified company able to weather the press storm.
French admits that G4S was the fund's 'stock horribilis' last summer but after working actively behind the scenes with the company's management, he increased his stake in the firm when its share price plummeted over the Olympics debacle.
'When we have problems with a company, we don't shout about it in the press and become aggressive like a hedge fund, we talk privately and try to make things better. G4S is one of the largest companies in the world and is well diversified. The chief executive is fantastic, and if you believe in global growth and emerging market growth G4S is a wonderful company to give you that.'
Commodity confusion
May was another 'terrible month', says French. 'We exited most commodities but kept some of them and have to accept that last May we had two or three shares we shouldn't have and it cost us 2-3% of performance. We panicked early and got rid of the problem early.'
'Rightly so, we had to take some criticism last summer as we had not moved up the chain with the commodity cycle coming to an end. We apologise for that blip and have had a good six to nine months since.'
But while the fund has been hurt by its large allocation to miners and basic materials, French does not think demand for them has fallen off a cliff and he remains overweight to Australian miners such as mineral sands miner Iluka Resources, and copper producer Oz minerals.
Miners still on the agenda
He insists that the main issue for the sector has been the misuse of capital as many miners extended themselves by making costly acquisitions and failed to improve production levels or dividend payments to shareholders.
'We are not bearish on commodities as there will still be demand. Everyone was concerned that China was only growing at 7% compared to historic 10% growth but if you have twice the size of economy growing at 8% that is far more powerful than half the size of economy growing at 10% in 2000.'
'The problem with the industry was that it overcapitalized itself and up to $200 billion had to be written off due to poor management.'
French stresses that his preferred resources stocks are all cash generative and primarily in relatively scarce or in demand commodities.
'Iluka Resources has zero debt and huge cash flow. It mines for mineral sands where the demand picture is fantastic. We also expect Oz minerals to do quite well this year and don't want to be in commodity stocks with poor management or where the commodity is abundant.'
French has spent the last few months transitioning his €6 billion fund away from a resources focused vehicle to a more a consumer demand focused one as the dynamics of the global economy shift.
Until recently, French held over a third of his fund in resource based stocks and profited from the 'resources super cycle' as the emerging markets continued their rapid growth trajectory, but has had a tougher run over the last two years as demand for resources fell away. 
Consumer shift
At the end of January 69% of the fund was in consumer goods, food and agriculture related stocks with French increasing exposure to bioscience stocks such as German listed Symrise and US giant Monsanto, as well as consumer staples groups such as PZ Cussons and Unilever.
'Food security and brand awareness are so important. In Indonesia and Thailand, private label accounts for around 1% of [food] sales but it is about 20% in the UK.'
The fund is also positioned to benefit from a rise in potash prices, with large stakes in fertilizer and seed groups Uralkali, Potash Corp and seeds giant Monsanto. 
'If there is a recovery in potash prices this fund will do incredibly well and the [globally] growing middle classes will pay more for security of supply. The horsemeat scandal in Europe and worries over baby milk prove this.'
Ingredients firms such as Germany's Symrise and US group IFF are also key holdings as French sees such groups as an effective proxy for global growth, wherever it comes from.
'If you invest in these companies you don't need to know if McDonalds or Burger King are the winners in China as Symrise and IFF dominate the global ingredients market.'
Conversely, a holding in Yum Brands was sold when it hit 45 times 2013 earnings.
'We bought in at 20 times [2013 earnings]. It continued to go up after we sold as everyone saw it as an easy proxy for Indian and Chinese growth but now it is starting to lose its lustre as people in China are turning off brands like KFC.'
Recent additions to the fund have included distribution specialist UPS and ports operator DP World.
'DP World was flat three years ago and had a poor balance sheet. We have had a very open dialogue with management and now it is at an all-time high.  In the case of UPS, it doesn't matter which emerging market does well, UPS will be a beneficiary of that growth wherever it is.'
Over five years to the end of February, the fund has posted 21.1% compared to the Customised Benchmark M&G Global Basic Composite return of 48.5%.