Give new managers a chance, says Russell's multi-asset CIO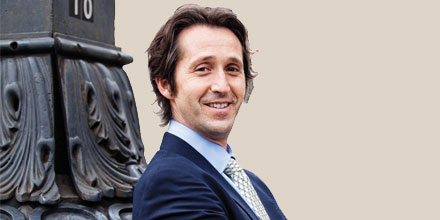 If there's one thing Christophe Caspar's time in Japan taught him, it's patience.
The global CIO of Russell Investments' multi-asset unit has been active in Japan for more than 15 years, three of which he spent heading up its office in Tokyo.
He believes restraint is essential when investing in this market and has cautious words for those who have jumped into the recent rally with both feet.
'I've been investing in Japan since 1996 and there have been a lot of false starts. This could be another one. The current surge may last a little longer but I don't think it's the 'Big Bang' for Japan yet.
'This would take a really progressive shift where a new corporate culture emerges and makes more headway than is being achieved today.'
A freediving enthusiast, Caspar has a passion for new depths and feels investors could do with digging a bit deeper themselves when it comes to Japan. While Japanese Prime Minister Shinzo Abe's stimulus measures have boosted sentiment to new highs, the complex nature of the country's society is not properly understood, he says.
'There are big generational challenges in Japan. The younger segment of society does not spend nearly enough to re-pump the economy in the long term. There are also a lot of structural problems at the corporate level, in the way large businesses are organised and treat shareholders.
'The current rise in the Japanese market and weakness in the yen are more cyclical in nature rather than structural.'
However, Caspar believes Japan does have one saving grace.
'Despite some mild slowing down in China's growth rate it is still a massive economic power and Japan's first trading partner.
'Maybe the current liquidity push could kick-start a longer trend in consumption that would potentially bring a little bit of inflation back to Japan but I doubt it will happen in the long term.'
The hard road to selection
When it comes to choosing investments, extensive research, analysis and countless manager meetings all lead to one question in Caspar's mind: Is this manager worth committing to?
Caspar and his team run over $60 billion – around a third of Russell Investments' overall managed assets – and use the manager analysis carried out across all of the firm's research units.
'In a way our multi-asset team is the chief orchestra in combining Russell's researched best strategies.'
Once a selection is made, he says, it is important to be able to stay the distance, even when an impending change of ownership could create some turmoil. The trick is often to detect these changes before they even happen.
'Very often when a team switches it's not the moment to sell because the change in leadership could be here to fix a problem.
'Too many consultants react too speedily to a team change believing it is bad, when it could be a catalyst for better performance.'
However, there is a disciplined selection process to work through before such considerations even come into play. Caspar and his team start with a database of over 6,000 managers. This is predominantly fuelled by what he calls Russell Investments' 'institutional memory', as well as other standard databases available for purchase.
Details on manager holdings are collated on a quarterly basis and an initial screening whittles the number down to 3,000 managers.
At this point the group's extensive resources come into play with a global team that carries out face-toface meetings and video calls with more than 3,000 managers per year.
'We discuss their portfolio activity, investment process and try to find out if they have an informational or analytical advantage. Is the performance they are generating due to good luck or bad luck? We try to discern between skill and beta.'
Key selection criteria include organisational stability, investment team quality, assets under management and the sell and buy discipline. These will differ in importance depending on the manager style they are looking for.
'Sell discipline is more important for a growth manager. We don't want them to fall in love with a stock and hold onto it too long. For a value manager we pay more attention to the buy because you don't want someone to catch a falling knife.'
When a manager is put on the buy list, the person that made the recommendation takes responsibility, says Caspar.
'We have a group of senior researchers to challenge any analyst who puts a manager on a buy list. This ensures they have thought of everything.
'As soon as a manager is put on the buy list the clock starts ticking.'
Biography: Christophe Caspar
An extreme sports fan, Christophe Caspar enjoys surfing as well as freediving in his spare time.
He also competed in France's national junior show jumping team in his youth. 'I live life to the full. After work I like to switch off and do something different,' he says.
He began his investment career in 1996 when he moved to London to join Fleming Asset Management. After three years he joined Russell Investments where he initially worked on its Japan, Asia and emerging market multi-manager portfolios.
By 2006 he ran all the group's Japan equity fund of funds, amounting to over $8 billion in assets, and had moved to Tokyo to run Russell Investments' Japan office before being named CIO for the Asia Pacific region. In 2009 he returned to London and was made global CIO for its multi-asset solution investment team.
Rising star interceptor
With over 50 research analysts at his disposal, some of whom have specialists in their area for over 20 years, Caspar believes he often has the edge on spotting a rising star.
'The checks and balances we carry out are very rarely about past performance, this really has a near zero weighting on our selection score card.
What we want is to find managers regardless of whether they have a fund or not. Many managers do not have a pooled fund, they just run segregated money for a number of important clients.
'We want to have access to people like that and this is where the institutional memory and crossfertilisation of ideas helps us find new managers. Eventually we will find seed money for them to develop a strategy. Often we fund managers nobody else could have invested with because we were the first to do so.'
Having performance statistics are useful in helping them understand a managers trajectory, but Caspar insists a manager does not need a track record to be included on their buy list. 'Sometimes I will veto adding a manager on our multi-asset funds after a strong period of performance. I believe in mean reversion and skill does not give you a linear performance but a cyclical one.'
Caspar has selected about 60 managers for his multi-asset portfolios and there is an equal split between large fund houses and specialised boutiques. However, the global equity portion of his portfolio has been causing Caspar a few allocation headaches over the past year.
'A particular challenge is the global equity managers who have tended to use emerging markets as an off benchmark bet. That has dented performance because emerging market equities have lagged global equities recently.
'Global equity managers have historically had a better performance in the indices in that space but that has not been the case over the past 12-18 months. It has been tougher than usual.'
Caspar uses specialist firms for his global equity allocation such as value investors Harries Associates, New Mexico-based Thornburg Investment Management and New York-based group Sanders Capital.
Investment plays
Caspar believes the liquidity rally equities have experienced may have gone too far and he has taken steps to protect his portfolio.
Over the last few months he has slightly reduced his equity exposure to about 50% of his overall allocation.
'We prefer US equities to the rest. Emerging market equities have lagged and while it could be an opportunity to invest on valuation grounds, I'm not convinced.'
For his US equity plays, Caspar has selected San Diego-based Clarivest Asset Management and First Eagle Group from New York, among others.
He has also put in place an option strategy on his Multi Asset Growth Strategy fund to protect against any potential equity downside.
'We paid a little premium for that but given where option markets are today and the low level of the volatility index, I felt that the risk/ return reward was in favour of buying some cheaply priced protection.'
Elsewhere, Caspar says he has recently increased exposure to absolute return funds which now stands at 20%. Groups used in this area include BlueBay and the Legg Mason affiliate Brandywine Global.
He has also sold out of Reits but is still confident on real assets. Infrastructure, for example, has been a particularly strong performer over the past year.
'We are a little cautious over commodities as a lot of supply has come onto the market. The supply end will stay pretty strong compared with the demand. We have also shortened duration positions in our fixed income portfolios given where yields are and have invested more recently in absolute return bond funds. It is a replacement for cash and does not take big market beta risk.'
Within fixed income, Caspar says that his exposure to high yield and emerging market debt remains above his average allocation levels, but they have been slightly reduced over the past two quarters.
Factfile: Russell Investments
Founded in 1936, Russell Investments offers multi-asset solutions to institutional investors, financial professionals and individual investors.
Its approach combines asset allocation, manager selection and dynamic portfolio management. Its global reach extends to 24 offices worldwide with $173 billion in assets under management.
The firm has also created its own range of Russell Global indices.
This article orginally appeared in the June 2013 issue of Citywire Global magazine