First State's Asante: QE-fuelled boom could turn to bust
By Matthew Goodburn on 03 June 2013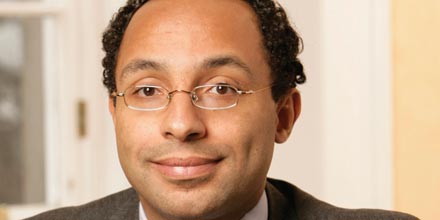 Rotating between Singapore, Hong Kong and Edinburgh is a rite of passage eventually undertaken by all of First State's Asian and Asia and GEM 30-strong investment management team.
In charge of GEM mandates which total around €21 billion, First State's head of global emerging market equities, Jonathan Asante, is no exception.
Asante and his First State GEM Leaders co-manager Glen Finegan, have now been in the island state of Singapore for seven months after an eight-year stint at the group's Edinburgh office and Asante says he and his family are thoroughly enjoying the secondment to one of Asia's investment hubs.
A focus on well-run and transparent GEM companies has seen Asante post annualised returns of 13% over each of the past five years on his flagship First State Global Emerging Market Leaders fund.
He is characteristically modest about his performance and prefers to talk about the team-based approach of an impressive group of managers, but the numbers point to a key individual contributor.
Just one of a raft of talented First State managers, that includes Glen Finegan, Martin Lau, David Gait and Alastair Thompson, Asante was lured away from AXA Framlington by illustrious GEM veteran Angus Tulloch in 2005.
He began his career as an economics lecturer at the London School of Economics before joining NatWest as an economist albeit 'briefly' because he 'wanted to see the world'.
That led to nine years at AXA Framlington where he worked on a range of emerging market mandates before he was spotted by Tulloch and brought to Edinburgh.
Please visit our full site to view this interactive chart
The unvarnished truth
Currently a Citywire Euro Stars AA-rated manager, Asante speaks concisely and honestly with a refreshing lack of corporate marketing spin.
It is this candour that plays so well with his investors.
He says: 'We have delivered acceptable returns over the past five years but for the next five-year view we expect returns to go down. We are faced with low growth, a potential boom and bust and a possible eurozone break-up, so returns will be lower in real terms.'
Just in case investors have not got the message he adds: 'We don't think emerging markets are in a bubble like 2006 yet, but they could get there if the money printing continues and in that environment nominal returns don't mean much.'
Asante and his family have settled well in Singapore and it is clear that the tropical heat has done nothing to dull his keen investment instincts. He talks constantly of his duty to protect capital as well as delivering returns.
Never shy to speak his mind, he is quick to criticise shoddy corporate governance or the lack of transparency that surrounds many state-run companies in emerging markets.
QE critic
What is currently worrying him most is the unprecedented money printing experiment going on around the world and the growth, he believes it has failed to stimulate.
'We are very concerned by the financial repression caused by QE. Bond markets are rigged to force people to accept lower returns in other asset classes. It creates another boom and bust for the banking sector, lower growth, higher volatility and low returns on equities.'
He continues: 'Bad quality companies have been annihilated but the good ones have just kept on doing well. Going forward the environment will be similar but it is going to get tougher and a number of countries need to do better.'
Asante singles out India as the major emerging market most in need of urgent positive reforms although he cites Indian tech firm Infosys as 'one of the best quality companies in emerging markets'.
While Asante stresses he is a bottom-up stock picker who simply looks for 'acceptably priced and good enough quality' companies regardless of their geography, India does remain an underweight position across the GEM portfolios.
'Politicians tend to change when their backs are against the wall. India needs serious reductions in the role of the state and more liberalisation in some sectors such as power. It needs to cut the political bureaucracy because it is a difficult environment when you have so many stakeholders to appease.'
Ghanaian-born Asante also admits to being 'maybe too sceptical' on some of the political reforms taking place in Nigeria, despite seeing rich promise in the growth of its emerging middle classes.
He is even more excited by how new technologies such as Face Time and Skype are transforming the business landscape across the African continent, citing the phenomenal rise of Indonesia and other Asian economies over the past decade as examples of what could happen.
'Imagine the potential of Africa over the next 10 years. You can see what has happened in Indonesia over the last decade. Companies do not have to be the strongest paragons of governance, they just have to get a bit better to interest us.
With a long-term overweight to consumer staples, Asante is currently finding a number of these stocks in South Africa, which remains the fund's largest country overweight.
'South African companies like Tiger Brands, supermarket chain Shoprite and SAB Miller are truly global. SAB Miller only has about 20% of its operations in South Africa, with a third in Latin America and the biggest bit in China.'
Please visit our full site to view this interactive chart
Pressing the 'sell' button
But the strength of such businesses has also led to a polarisation in the market and long-term favourite Shoprite was recently sold completely due to its share price rocketing.
He also sold out of Brazilian beverage giant AB InBev, which had previously represented almost 4% of the fund, while Taiwan Semiconductor (TSC) has been reduced from 6% to around 3.5% over the past few weeks.
'TSC is a great company but it is a tech manufacturing firm and the test is, can you tell yourself it will still be making money in 20 years' time? We know that Colgate and Unilever will definitely exist but look at what has happened to Nokia. We don't know if firms like TSC or Apple can have sustainable growth and if you cannot be sure, you have to rate them lower.
'Across global emerging markets good companies are becoming very expensive. They are highly prized by investors because the more that poor quality companies don't deliver, the more expensive the good ones become.
'AB InBev has been very successful but beer is not a growth industry and it has got to over 20 times 2013 earnings.'
Although the proceeds were recycled into its South African-listed peer SAB Miller, Asante is keeping a very close eye on the growth he expects from that stock.
'Valuations are down to the quality of the company and the return you want to earn for that quality. For example, when a steadily growing beer company falls below 10% annual growth we tend to sell.'
Meanwhile, Japanese sanitary and health group Unicharm has been reintroduced in the portfolio. Asante likes the fact the group has 50% of its volume sales in emerging markets and is owned by its founder, a key consideration for Asante.
Asante and Finegan see Unicharm as a relatively small fish in a big pool, with the potential to grow strongly. 'Unicharm is a patient operator on a long-term time horizon and has a strong business in Taiwan and it is now building up in China. Glen chatted to Kimberley Clark's chief executive recently who said it was a serious competitor, but it has a market cap of about €12 billion making it small and nimble compared with Proctor & Gamble's €233 billion market cap.'
Readjusting telecoms holdings
Having been a long-term backer of telecom stocks, Asante has been reducing exposure to the sector over the past few months, as he has concerns over whether many companies in the sector can sustain their market positions as new technology threatens their business models.
He revisited all his telecom holdings just before the end of 2012 and has sold most of them on worries over falling cash flow and revenues.
'We are now spending half our time thinking what will go wrong and lose us money rather than make us money.
'Telcos are all becoming more mature businesses and are hoping that the advance of technology will keep the market share pie from shrinking, but no one really knows. Dividends below 10% won't protect you if cash flow starts to shrink.'
Asante is happy to stick with telcos that have already experienced fierce competition, which has meant those still standing are leaner and more able to withstand shocks.
China's challenges
He remains underweight China, where the glut of state-run firms fail to meet his investment criteria although he accepts that while transparency is hard to come by, the country remains a 'massive opportunity' for GEM managers.
He has only around 4% direct exposure to the country, through positions in China Telecom, dairy firm China Mengniu and a recently purchased stake in Chinese ports group China Merchants Holdings.
Most of the Chinese mainland exposure comes through Taiwanese and Hong Kong positions that he says are essentially proxies for mainland China growth. He also warns that resolving growing environmental concerns is paramount if China is to continue its own rapid development.
Asante warns that failure to address such issues could have a serious impact on stability and right across emerging markets he continues to see inequality and environmental concerns as the biggest stumbling blocks to development.
An inability by governments to deal with their internal problems and poverty in particular, has helped fuel the rise of Al Qaeda's fight with the West, and China and Japan's ongoing islands dispute is a 'symptom of things going wrong in China' he says.
'The war going on between Al Qaeda and the West is spreading globally and it is a function of inequality and a failure of states to deal with their own issues.'
While he continues to avoid Russia, Asante is more positive on Latin America and in particular its most transparent market Chile.
He also likes Brazilian president Dilma Rousseff's efforts to clean up corruption saying she is 'doing some wonderful things'. While understandably corruption, inequality and money printing continue to give Asante sleepless nights, he is keen to end on a more hopeful note.
'The more people can pull themselves out of poverty the better. People underestimate human ingenuity to improve productivity and there is evidence that pharmaceutical companies are starting to find new drugs.'
But with that, the engaging Asante returns to what could go wrong, reminding us that all this could come to nothing if the money printing presses keep on rolling.
This article first appeared in the May 2013 issue of Citywire Global magazine