Faber: US bull market could end in 40% loss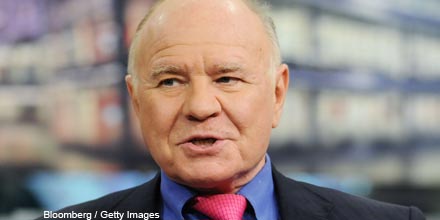 The US is the most overbought market despite weaker earnings figures and could be heading for a sharp downwards correction, renowned investor Marc Faber told Citywire Global.
Back in January, Faber, the publisher of 'The Gloom, Boom & Doom Report', told Citywire Global the S&P 500 would likely fall 20% this year but believes it could fall as much as 40%.
'We're seeing declining earnings and earnings disappointments and yet prices are going up. The reason we haven't seen a 20% correction yet means that the market has become very stretched and overbought,' Faber said on Thursday, speaking from his home in Thailand.
Faber said the US market was set for disaster on the medium to long-term as investors could suffer heavy losses once it runs out of steam.
''The US market is the only game in town. This bull market could last another few months, it could last another few years. The market may still go up like in 1987 and then lose 40% in two months.'
The country's largest companies have rallied since January this year, with the S&P 500 trading higher since the beginning of the year and the Dow Jones index meeting new highs in early March.
The names leading the rally, are however, becoming increasingly select and are mostly being boosted by the Federal Reserve's expansive monetary policy, according to Faber.
'The indices have gone up but in the process they have become very overbought because they are driven by fewer and fewer stocks. The majority of stocks is no longer hitting new highs in share price,' he said.
US earnings
Faber also expects disappointment in technology and luxury names ahead of the US' upcoming first-quarter profit announcements.
'I think that brands in the high-end market will disappoint. The luxury sector, like real estate, has been boosted by money printing and a form of luxury inflation. The question is, how much more can people buy?'
Following on from US technology firm Oracle's disappointing earnings, Faber said he expects the wider sector to post declining results.
Dr Doom's allocation
In financials, Faber has recently sold European insurance stocks in order to buy pharmaceutical and food retailers and is poised to add to telecoms.
He has also increased his exposure to Japanese stocks and while he holds a majority of his 25% equity exposure in Asian shares, he considers the Thai and Indonesian stocks to have peaked.
'I don't expect high returns from my portfolio this year. I want to hold some money in stocks because I don't trust the banks to have everything in cash.'
Faber, who manages portfolios for private clients, invests 25% in bonds and cash, nearly 25% in real estate and 25% in gold next to his equity exposure.