ECB rate rise will be 'largely symbolic'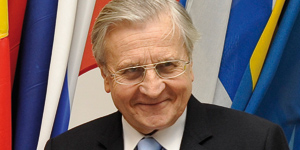 The European Central Bank's anticipated interest rate rise is a strategic move by Europe's financial decision-maker to make it appear to be tackling inflation, says Schroders' Rory Bateman.
The firm's head of European equities believes the interest rate rise the ECB has hinted at is 'largely symbolic' and has been flagged up in advance because the bank's policymakers 'don't want to seem like inflationists'.
At the beginning of March, the ECB's president Jean-Claude Trichet (pictured) announced a rise in interest was likely in April, surprising many investors and market commentators.
Bateman believes the rise will be 'staggered and muted' and does not believe it will have any significant effect on European corporates profitability.
'The core European companies are in rude health,' said Bateman. 'Their margins are increasing and their balance sheets are very strong.'
Over the last five months, Bateman says he has been buying value European companies for his Schroders ISF European Large Cap, opting for a high conviction approach by moving away from his benchmark and reducing the number of holdings in his portfolio.
He also says that although there has been 'dramatic change going on with peripheral countries, the fiscal packages put in place do not detract from the core European recovery'.
His remains focused on the core European markets, such as France, Germany and the Nordic region while avoiding most of the peripheral countries. However, he does see opportunities in Spain wheer he says good companies have ridden the downturn and have strong balance sheets.