Credit star McDonagh pulls back from emerging Europe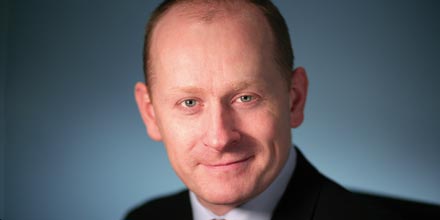 Eastern Europe may have provided positive short term performance for Alt Ucits A-rated manager Colm McDonagh but the credit specialist is now moving to a more defensive footing.
Speaking to Citywire Global, McDonagh, who runs the $630 million Insight-Absolute Emerging Market Debt fund, said a standout performer in recent weeks had been holdings in Ukranian government debt.
McDonagh said he had 'not particularly liked' the Ukraine in recent years due to concerns over its balance of payments and potential political risk. But, he noted that, in country terms, it had been the most positive contributor to his fund in October.
'When our focus fell on the Ukraine, we saw they had just had political change – with the election recently – and we foresaw what they need to do is devalue their currency.'
'We had worried about the currency for a long time but they were able to issue debt denominated in US dollars and that eased the difficulties.'
But, with the picture remaining clouded in Europe and the knock-on effect of gridlock over fiscal deficit debates in the United States, he has begun to reduce his exposure.
'Over the past few weeks or so we have taken a little bit of a defensive position, reducing our duration and also limiting our holdings a bit. We felt the markets were deteriorating and we thought that we would reduce the number of bonds we have,' he said.
'The growth in the eurozone is particularly important for our Eastern Europe exposure because of the economic exposure between core Europe and these markets. We have looked closely at the prospects for Poland, Hungary and the Czech Republic to see if there is any opportunity there.'
McDonagh said he is also looking at countries in Latin America and Asia which have benefitted from proactive interest rate policies.
One other method McDonagh said he is using to weather the macroeconomic difficulties on the horizon is a move to cash. He said he currently holds 25% of the fund in cash and, while it is not a historic high for the fund, allows him breathing room.
'We have moved to 25% cash and this is a benefit of being an absolute return fund rather than a long-only fund, as we have got the luxury of holding fire,' he said.
The Insight – Absolute Emerging Market Debt fund has returned 19.67% over the past three years. This compares to the average manager in the Citywire Alternative Ucits Credit Strategies, who returned 16.47% over the same period.