China 'sacrificed' equity market to sever dollar link, says GaveKal founder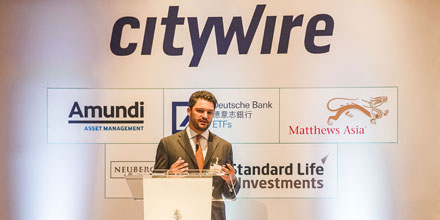 The dire performance of the Chinese equity market over the past three years can be explained by one giant aim: to wean the world's second largest economy off US dollars, according to Louis-Vincent Gave, founding partner and CEO of GaveKal Research.
Speaking at Citywire's inaugural fund selector forum in Hong Kong the Frenchman declared: 'We here in Asia will cut the dependency link to the US dollar.'
He said China's desire to internationalise the RMB is the single most important macro development currently unfolding but believes far too few people are paying attention to it.
With the RMB market now growing by $3-5 billion a month, Gave likened the situation to the emergence of the deutschmark in the seventies for Europe to trade in.
'Two years ago 0% of China's imports were settled in RMB, today 13% are settled in Chinese currency.'
Reaching this point has however caused other parts of the economy to suffer.
'Nobody saves in a weak currency so for the past year and a half the Chinese government has sacrificed the equity market to ensure the stability of the credit and currency markets.'
'Selling Chinese socks for US dollars - that's no longer where we want to be. Our future is selling telecoms to India, roads to Africa and the renminbi is helping to develop that at warp speed.'
Euro woes
Turning his attention to currency issues in Europe, Gave said the story remains a troubling one.

'The euro was supposed to bring harmonisation but it is doing the exact opposite.'

'Today Germany is in the same situation as China was in the mid 2000's. Year-on-year growth is the best it's been for thirty years but it is stuck in a monetary policy trap that is inadequate for its domestic economy and will guarantee a real estate bubble and increased labour costs.'

But for Gave, the biggest negative in Europe is 'undeniably' France.

'France is entering into a very nasty recession.'

The situation, he said, would already be a lot worse if the Swiss hadn't become forced buyers of European government bonds, allowing France to rollover five years of debt.

Despite this, Gave was positive on the ability to produce returns going forward and expressed frustration that fund managers could not see the same opportunities.

'It's easy to become Quasimodo and ring alarm bells all day. Rarely have we seen an equity bull market as unpopular as we have today.' 'It's hard to find assets that lose money yet most money managers are feeling down.'