China expert Chan keeps a level head and ignores the scaremongers
By Nick Tay on 10 April 2013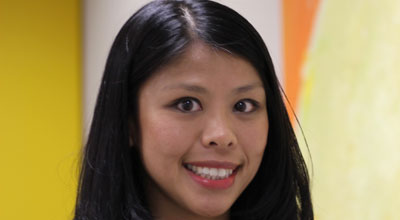 Chinese markets are known for both the speed and ferocity of their run-ups and sell downs. So the ability to keep a level head amid the chaos is key for any fund manager wading into the ebb and flow of equity markets.
For Gigi Chan, fund manager at Threadneedle Investments, filtering through the market noise is a matter of 'knowing in your mind, what is happening on the ground, and focusing on my core competency, which is assessing companies, and translating that into portfolios.'
Chan has managed Threadneedle China Opportunities Ret Net Acc EUR, since March 2007, year-to-date, the fund has returned 0.40% against the MSCI China TR USD return of -4.54% (in USD terms).
'There's so much scaremongering that goes on in China, keeping a level head is a huge help,' says Chan, who focuses on picking stocks that can generate alpha over time, in sectors that have the potential to outpace China's GDP growth. Key to picking winners in China, according to Chan, is finding companies that can 'grow through the cycles, independent of bank financing or other forms of financing, generating cash flow, and investing in their own growth.' This conviction helps Chan differentiate between 'suffering due to market perception or due to fundamental deterioration'.
Defying the scaremongers, Chan continues to hold strong conviction in the consumer discretionary sector. 'Consumption is a theme we're sticking to, as wage growth is good for disposable income. Penetration rates are still low, compared with developed economies, so you have fairly robust growth for the next few decades at least,' says Chan, who notes that while wage growth contributes to higher spending, it puts cost pressures on companies. With the intense competition in Chinese markets, the focus for Chan is to seek out companies who are building 'franchise value'.
In utilities, Chan prefers to avoid areas which are subject to 'pricing or policy interference', and favours city gas distribution, which is one of the themes arising from greater emphasis on environmental protection. 'Much of the growth is coming from penetration rates going up, and some of the listed companies that focus in the smaller cities, that are looking at 30% to 40%, and are approaching Shanghai penetration rates, which is closer to 70%.'
While growth is undoubtedly high on China's priorities, this gives rise to the risk of inflation, which Chan sees as a short-term risk, but is 'not a cause for concern, yet'. Longer term, the key risk Chan is keeping an eye on is policy risk, and the execution of the policy, as China transforms into a more sustainable economy.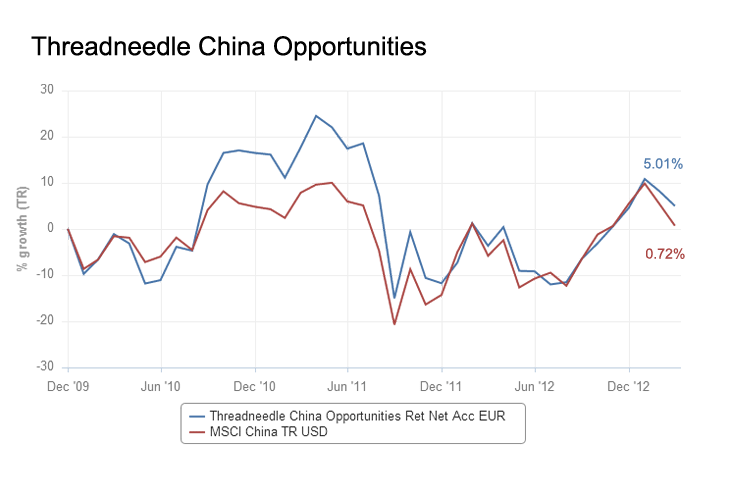 From end-2009 to end-March 2013, Threadneedle China Opportunities Ret Net Acc EUR has returned 5.01% against the MSCI China TR USD return of 0.72%.