Charlemagne's Gems: how much delight is left in Turkey?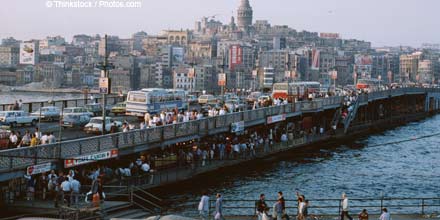 Investing in the Turkish stock market is rarely a smooth ride, but one that has been very profitable for those investors prepared to live with the volatility.
A recent visit confirms our bullish expectations on the country's outlook, even following the market's 50%-plus gain last year.
Istanbul has always been where East meet West and is both an Asian and a European city, but rarely in its long and fascinating history has it felt more like a stagepost between two very different worlds. To its west is Greece, with its economic and political turmoil, and the rest of stagnant Europe.
Arriving in Istanbul is like entering a new world, full of growth and opportunities. This is clear from the moment one lands at the city's main airport, which is bursting at the seams - unsurprising, given that passenger numbers through TAVs airports have grown from 23 million in 2006 to 72 million last year, a compound growth rate of 21% per annum.
Tourist arrivals in Turkey have risen from 9.6 million in 2000 to 29.3 million in 2011, and the country is now the sixth most visited on the planet.
Consumer spending
Turkey's demographics are also very different from Europe.
Its population of 74 million – half of whom are less than 29 years old - is growing 1.6% per annum. The number of urban households is forecast to grow from 13.4 million in 2010 to 15.1 million in 2015.
This all adds up to growing demand for cars, for fridges and for real estate. Car sales have doubled in four years and white goods sales are two and a half times what they were a decade ago.
Yet the economy is booming from a very low base. Household debt to GDP is still only 20%, compared to 67% in neighbouring Greece, an EU average of 71% - and a terrifying 101% in the UK.
Per capita spending on electronics is only two-thirds that of Greece while shopping centre floor space is a mere one-third.
Turkey also has a strong banking system.
The largest part of the stock market, banks had no subprime exposure and no investments in peripheral eurozone paper.
Tier One ratios are over 14%, amongst the highest in the world. As well as low personal borrowing, government debt to GDP is only 40%, against a Eurozone average of around 90%.
The 'look east' policy means that its dependence on western demand is falling. In 2000, 70% of exports were to developed economies: ten years later, the figure had fallen to 50%.
Despite the strong rise in share prices last year, the market remains attractively valued, with a PE ratio of just over 10 times this year's earnings, supported by double-digit earnings growth and high dividend yields.
Key picks
Our favourite investments mirror these themes.
We like TAV, the airport operator, whose revenues have grown from €402 million in 2006 to €1,099 million last year.
We also invest in Arcelik, which has a 50%-plus market share in white goods in Turkey and a 17% share in the UK, under the Beko brand, whose long term plan is to double sales in the next five years.
Another attractive investment is Tofas, which makes Fiat cars. Istanbul's streets may already seem overcrowded, but Turkey has a mere 138 cars per 1,000 people, compared to 360 in neighbouring, and poorer Bulgaria.
The long-term prospects are bright, even if it may continue to be a bumpy ride.
As co-chief investment officer of Charlemagne Capital Julian Mayo runs a range of funds, including the Magna Emerging Markets Dividend N Acc GBPMagna Emerging Markets Dividend N Acc EURMagna Emerging Markets Dividend fund, which he has co-managed since June 2010.
According to Lipper, the fund has returned 15.1% in the 12 months to the 8 February, outperforming the 1.9% gain in the benchmark.