Calich puts lessons of history to good use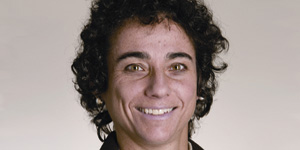 There have been almost as many international influences on the life of Invesco's emerging market bond manager Claudia Calich as there are on her successful portfolios.
Her grandparents emigrated to Brazil from Eastern Europe and she was born and raised in Brazil's sixth largest city, Porto Alegre. She holds an MA in economics from Susquehanna University in Pennsylvania, which involved spells in Madrid and at the International University of Japan.
At the time of writing, she is in Singapore, nearing the end of a three week, whistlestop trip around the world, visiting investors in Europe, the Middle East and Asia. Her office, however, is only a stone's throw away from Times Square in New York and it is there that she uses her international knowledge in building the portfolios of her Invesco Emerging Markets Bond USD and Invesco Emerging Local Currencies funds. She also runs the €293 million Invesco Global High Income Income fund.
Calich's childhood in Brazil was part of the inspiration for pursuing a career investing in emerging markets, having witnessed some of the economic problems which plagued her home country for so long.
'I was born and brought up in Brazil so I experienced first-hand the various types of economic policies in the country,' she says. 'I lived through periods of hyperinflation, currency devaluations and conversions, bank account freezes, frequent changes of finance ministers and so on.'
'I was exposed at an early age to economics, by watching the nightly news and hearing about all these events,' she says. 'As a citizen, this was hard to endure but at the same time it was fascinating and a learning experience of what not to pursue in terms of policies. In time I decided that I would study economics to better understand the causes behind this and eventually decided to pursue a career in emerging markets.'
She thinks the Brazil she left as an 18-year old is, fortunately, an entirely different economic proposition from that of today, with observers touting the country as the next economic powerhouse. This is a situation many thought would never arrive.
'We used to have a saying when I was growing up: "Brazil is the country of the future and always will be",' Calich says.
But now, perhaps belatedly, the country is starting to realise its enormous potential. President Luiz Inácio 'Lula' da Silva has turned the economy around since taking office in 2003, culminating in Brazil's debt recently being awarded the coveted investment grade – opening the doors to billions of dollars of fresh investment in the country.
'When the current administration took office there was a lot of scepticism,' Calich says. 'Even I have to admit I didn't vote for him (Lula da Silva) in the first round. Who would have thought he could have got Brazil to investment grade within three years? This is really fantastic.'
She believes that her Latin American roots give her a definite edge in the industry, particularly because of her language skills.
'I speak Portuguese as my mother tongue and I also speak Spanish after my time in Madrid,' she says. 'It's very useful for reading documents and also for speaking to locals. It inspires a little more trust in the locals if you can speak their language.'
Calich is currently A-rated by Citywire for her risk-adjusted performance, having held a rating for 18 consecutive months.
Calich describes her investment approach as a blend of top-down and bottom- up. She and the New York team employ a fundamental approach when it comes to looking at country selection and corporate credit, while also including a more technical angle when it comes to local currencies and local bonds.
She thinks that the emerging bond asset class can now be separated into three mini asset classes, hard currency debt, local currency debt and corporates.
She aims for outperformance from a number of different sources.
'We have diversification in term of alpha, from top-down, bottom-up, security selection, external debt, local currency bonds and corporate credits,' she says.
Over the last three years Calich's US dollar denominated fund, Invesco Emerging Markets Bond USD, has returned 33.3% compared to the JP Morgan EMBI Global Diversified which has risen 30.3%.
Her more recently-launched local currency fund, Invesco Emerging Local Currencies Debt, has returned 20.3% since its inception in December 2006, compared to a rise in its index of just 8%.
She does not think investors should expect such performance from the asset class in the future, but there is still plenty of upside potential. 'In the local currency fund we won't see the same double digit returns as we saw last year,' she says.
She thinks that the sources of outperformance in the sector will shift slightly for the coming years.
'I expect more bottom-up country differentiation than over the last few years, where calling the market, or beta, was more important,' she says. 'I see alpha, in the nearer term, coming from local currencies and in the mid to long term from local rates and spread compression and carry.'
Currencies is an area which makes Calich excited, particularly in the Far East.
'I like Asian currencies in general,' she says. 'For example the Indonesian rupiah which has been rather sidelined. The carry there is attractive.'
She is also still bullish about the prospects of the Brazilian real, although admits time is ticking for profiting from it.
'To use a football analogy we are in the 35th minute of the second half as far as the real is concerned,' she says. As a Brazilian it is no surprise that football comes up in conversation a number of times. But she is unimpressed by the sport in the US; 'there is no passion, it's just not the same,' she says.
Returning to the subject of currencies, she also mentions the Nigerian naira as one she likes, so too the Egyptian pound. In South America she also likes Uruguay's peso. 'It is a cheap currency we can make money out of,' she says.
Interest rates are obviously a major factor in her selection of positions and she expects some openings to develop later this year.
'In the near term it is tough to get an outlook on rates, but the second half of the year will provide some interesting opportunities,' she says. 'As far as local interest rates go, I still like Brazil, Turkey, Colombia and Indonesia.'
Turkey has long been one of her favourite positions. 'In Turkey, we hold both US dollar and local currency debt but prefer the local lira debt at these levels,' she says. 'Rates have backed up as the Central Bank of Turkey has to hike rates to fend off inflation. However, unlike 2006 where rates were in the low double digits, they are in the mid to high double digits now – the central bank is less behind the curve now than then and the lira remains well supported.'
Meanwhile, Indonesia is one of her main Asian plays. 'In Indonesia, we prefer local bonds also, as we expect the rupiah to remain range bound and local yields to be sold off by about 300 basis points on rising inflation,' she says.
She points out that rates in Indonesia have already been hiked by 0.25%. 'This was earlier than expected and although they (the central bank) will have more to do, the fact they started hiking earlier than expected is positive and highlights the intention to contain supply side inflationary pressures, rising food and oil prices, as well as second round expectations. We are waiting for an issuance of bonds in US dollars and may also buy that issue if levels are attractive.'
Her exposure to corporate debt is a medium term play, Calich says, because, 'in the near term corporates will probably go sideways.'
'Emerging corporates were sold off in line with corporates globally,' she says. 'But they still have good credit. We have been seeing quite a few new issues coming out in the last month or so, for example from Russia there was a steelmaker and a telecommunications firm. They were in need of refinancing and there was a cheap concession.'
She also owns corporate debt in the shape of a Brazilian media firm and a Mexican homebuilder that has been unduly punished.
Calich thinks that her flagship $365 million dollar-denominated bond fund is the ideal size to allow her to do her job properly. 'It is big enough not to be ignored by the Street but not so big that you are limited to just buying the big liquid names like Brazil and Russia,' she says.
Political risk is an issue often discussed in association with the emerging bond sector, but Calich thinks risk levels have diminished greatly recently.
'There has been a tremendous amount of improvement, not just in Brazil but in lots of emerging countries,' she says.
Although she admits Venezuela and its socialist president Hugo Chavez are 'worrisome,' so too Bolivia and Ecuador, such nations are the exception rather than the rule nowadays. And anyway, Calich says, even these countries are still servicing their debt.
'For every country doing the wrong thing there are two doing the right things,' she says. Sometimes the reality is quite different to the perception in emerging markets.'
The style favoured by some leading managers in the sector is to build concentrated portfolios populated by large bets. This style is not for Calich though. Despite some moves away from the benchmark, she points out that her relative risk levels are low due to her diversified portfolio.
'We spread our bets over 100 different names but we are also always looking for other interesting opportunities,' she says. 'So if one bet doesn't go so well it is not going to effect the whole portfolio.'
This style may be less eye-catching than one built around a handful of big positions, but it has consistently delivered for Calich. Her 18 consecutive months in the Citywire ratings is pretty clear evidence of that.